20 Pocket-Sized Multi-Tools
[ad_1]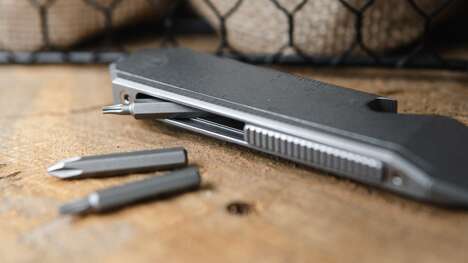 This set of pocket-sized multi-tools is sure to have a convenient product for every kind of person. If you're a cyclist, technologically savvy, or even if you love to go fishing, these multi-tools will enhance those experiences.
Take for example the 'Lever Gear BitVault.' This small tool features a sliding drawer with six small compartments, just large enough to fit hex bits, pills, or even micro SD cards, all conveniently protected in your pocket.
If you're more into technology, the 'F.100 Flashlight Power Bank' is a great option. This multifunctional power bank provides 1,000 lumens of brightness with a 2,600 mAH rechargeable battery that can be used to power the flashlight for longer or to charge any gadgets you bring on the go.
These pocket-sized multi-tools are essential everyday carry (EDC) items that offer tons of quality of life enhancements, all without any inconvenience to the consumer.
[ad_2]

Source link