MUMBAI: It surely is painful at times to see
Mahendra Singh Dhoni – the
winner of two World Cups for India and three Indian Premier League (
IPL
) titles and one of the most influential white-ball cricketers ever to have played the game – struggling with the bat.
At the toss of the
CSK
match vs PBKS on Thursday,
Dhoni
said – "Well, you can see me in yellow next year…But whether I will be playing for CSK? There are a lot of uncertainties around it for a simple reason that we have two new teams coming up. We don't know the retention policy. We don't know how many foreigners, Indian players we can retain, the money cap that every player will be cutting from the kitty. So there are a lot of uncertainties."
Was that a hint that he will continue with CSK, but not in a playing role? Perhaps as a team mentor?
Will the 2021 edition of the IPL be his swansong? Is he getting ready to bid a final goodbye to the game as a cricketer, getting ready to hum that lovely 'Main pal do pal ka shayar hoon…' one last time.
Whether it's the hand-eye coordination that's gone missing from his batting or his timing and reflexes that have given way, it's not a pleasing sight to see one of the biggest hitters of modern day cricket not being able to connect the bat with the ball. In a batting career flooded with memories – be it that World Cup-winning six in 2011 or those umpteen last-over flourishes – this is not how his fans would like to remember Dhoni the batsman, ideally.
But that's sport. Harsh, unpredictable, unforgiving.
Off the field though, apropos of his cricket, MS continues to be the powerful brand he's always been. His presence continues to play a huge role in
Chennai Super Kings
making it to the playoffs this season, especially after a very bad outing in 2020; and more importantly, the effect he continues to have on brand-IPL.
No cricketer has single-handedly added value to this T20 League like the former India captain. This fact is supported by the television ratings of the IPL's first 35 matches in the 2019, 2020 and the 2021 edition.
While Mumbai Indians have been the most dominant franchise in the IPL, as far as the on-field cricket is concerned, winning five IPL titles compared to CSK's three, their overall viewership in the last three years still ranks second to the Super Kings.
Viewership of matches involving Mumbai Indians has increased by 10% coming into this edition, while Chennai has ranked first with a 12% viewership (a very minor 2% high compared to Mumbai) and marginal increase in the television ratings.
Royal Challengers Bangalore, Kolkata Knight Riders and Delhi Capitals have ranked third, fourth and fifth in that order. The interesting bit here is IPL's most successful franchise (MI with5 titles), the franchise that has India's biggest cricket star (Virat Kohli at RCB), a franchise with a star owner in Shahrukh Khan (KKR) and a franchise with a large number of young and prominent India cricketers (Delhi Capitals) have all ranked behind the Super Kings – a franchise that didn't play IPL for two years.
All thanks to the popularity of one man, and the outpouring of love in the state of Tamil Nadu for their "Thala".
In 2020, the Super Kings experienced their worst IPL edition when they failed to make the playoffs for the first time ever. However, the on-field failures didn't seem to make any difference to how they were received off it.
Fashion e-commerce company Myntra, CSK's parent company India Cements and Gulf Oil are the franchise's principal sponsors and a large part of the premium these companies pay is because they see MSD complimenting their presence.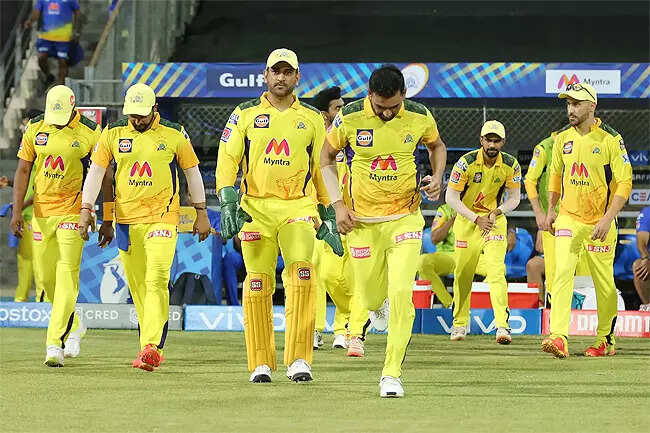 MS Dhoni leading out his team Chennai Super Kings during an IPL match. (BCCI/IPL Photo)
"He's still CSK's singlehanded 'truck-puller'," is how an industry executive puts it.
And that alone speaks volumes about Brand Dhoni. Even as he walks into the sunset of what has been a glorious career, his name still rings the loudest in the IPL ecosystem. "The thing is – there's no other star in the CSK camp other than Dhoni capable of pulling these numbers. And then, of course, there's a memorable past to his captaincy and Chennai's domination of the IPL (three titles – 2010, 2011 and 2018). All of that adds up to their current popularity," says those tracking the space.
Such has been the franchise's sway over catching eyeballs on television that the BARC survey says CSK's viewership has topped the charts not just in Tamil Nadu but in five other states that don't have an IPL franchise of their own – Andhra Pradesh, Gujarat, Uttar Pradesh, Madhya Pradesh and Bihar.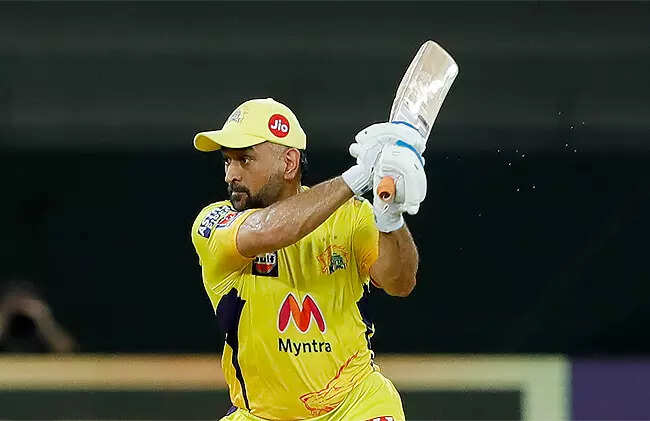 MS Dhoni during an IPL match. (BCCI/IPL/PTI Photo)
"The interesting bit is, when it comes to teamwise viewership performance, Delhi happens to rank third in Delhi. The first two spots are grabbed by CSK and MI. These are BARC's official numbers," analysts say.
It is largely for this reason that Dhoni's serious lack of form is not proving to be a matter of grave concern for CSK. At 96 runs in 14 matches and 10 innings, with an average of 13.71, a strike-rate under hundred and a highest score of just 18 runs, Dhoni ranks ninth among the run-getters for the franchise this season.
That's dismal by any standard.
However, at 40 years of age, he still ranks second on the list of wicket-keepers this season in terms of dismissals – ahead of the likes of Sanju Samson, KL Rahul, AB de Villiers, Dinesh Karthik, Quinton de Kock, Wriddhiman Saha and others.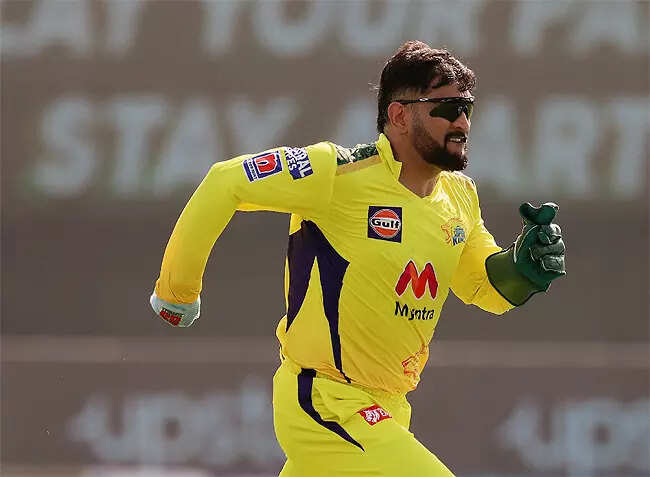 MS Dhoni during an IPL match. (BCCI/IPL/ANI Photo)
And given the authority with which CSK have made it to the play-offs this season, the man's captaincy continues to speak for him.
Those who track this space very closely continue to call this the 'MSD-effect', and in that, there's a perspective the industry is busy drawing. "His popularity among fans across age-groups is pan-India and that shows in these numbers. And in that, Chennai Super Kings have very big shoes to fill once Dhoni walks away," say industry-trackers.
If Dhoni is planning to call it a day at CSK, at least as player and captain, Chennai's next big challenge will be to find a cricketer, a leader and a brand icon that can keep their numbers ticking on and off the field. But then there are some shoes one just can't fill.