[ad_1]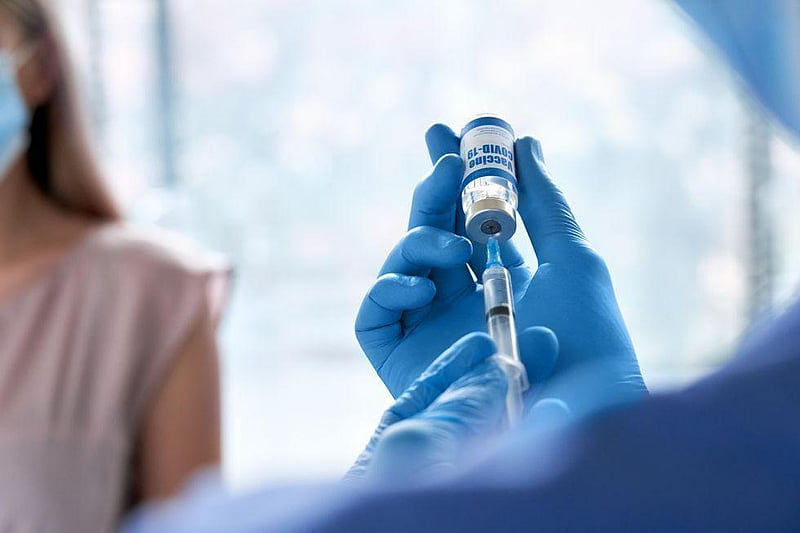 By Dennis Thompson HealthDay Reporter
WEDNESDAY, Oct. 20, 2021 (HealthDay News)
Millions of Americans who received the Moderna and Johnson & Johnson coronavirus vaccines will be eligible for booster shots in the near future — and they'll be able choose any coronavirus vaccine for their extra dose, the U.S. Food and Drug Administration announced Wednesday.
The FDA is recommending that:
People who received Moderna vaccine can get a booster at least six months after they have completed the two-dose series, if they are 65 or older, at high risk of severe disease, or work in jobs that regularly expose them to COVID-19.

Anyone over 18 who got the single-dose Johnson & Johnson vaccine can get a booster shot two months after they got the first jab.

Any person eligible for a booster dose can "mix and match" their extra jab, regardless of the vaccine they were initially given.
"Today, the currently available data suggest waning immunity in some populations of fully vaccinated people, and the availability of these authorized boosters is important for continued protection against COVID-19 disease," acting FDA Commissioner Dr. Janet Woodcock said during a media briefing on the booster approvals.
The FDA's decision — which followed closely on recommendations from its expert advisory panel — is one of the last steps toward a full rollout of booster shots to eligible Americans. On Thursday, the Centers for Disease Control's Advisory Committee on Immunization Practices is expected to provide more detailed guidance, with agency director Rochelle Walensky signing off on the new recommendations. According to the Washington Post, after the CDC's action, the newly approved booster shots could begin to be delivered by the end of this week.
The guidelines for Moderna vaccine recipients eligible for a booster shot mirror those set late last month for people who got the Pfizer vaccine.
One difference — the Moderna booster will be a half-dose of the original vaccine, while the Pfizer booster is a full dose, the FDA said.
The agency also authorized "mix-and-match" booster doses after reviewing clinical trial data showing that an extra shot of any vaccine will provide added protection to anyone who's developed vaccine immunity, the FDA said.
"In many ways, as we move to deal with this as an infectious disease that we have to deal with, being able to interchange these vaccines is a good thing," Dr. Peter Marks, director of the FDA's Center for Biologics Evauation and Research, said during the media briefing. "It's like what we do with flu vaccine. Most people don't know what brand flu vaccine they receive."
"If people have concerns, they should ask their providers and there might be reasons why an individual provider might decide to recommend a different booster based on side effects that were seen" during their initial series of shots, he added.
In the National Institutes of Health study on "mix-and-match" COVID-19 boosters, researchers looked at nine groups of roughly 50 people each. Each group received one of the three authorized vaccines, followed by a booster. In three groups, volunteers received the same vaccine for a boost. In the other six, they got a different vaccine.
The differences were startling: Those who got a J&J shot followed by a Moderna booster saw their antibody levels rise 76-fold within 15 days, while those who got a second dose of the J&J vaccine saw only a fourfold rise during the same period. A Pfizer booster shot raised antibody levels in Johnson & Johnson recipients 35-fold.
Nirav Shah, president of the Association of State and Territorial Health Officials, told the Post that the approval of the mix-and-match approach would make outreach efforts for boosters a simpler task.
He noted that "the ability to provide boosters on the ground at the state and local level would be greatly enhanced," Shah, who is also director of Maine's Center for Disease Control and Prevention, said ahead of the FDA decision.
The ability to mix and match boosters means that "when our teams are going into a community or a nursing facility to provide boosters, being able to carry one vaccine and give it to all who are eligible speeds up the process," Shah explained.
The FDA based its Moderna decision on follow-up data from 149 people who participated in the original clinical trial, then got a booster dose at least 6 months after their second jab. The participants experienced a strong antibody response. Additional analysis from Moderna also showed that vaccine effectiveness had waned over time, particularly in the face of the Delta variant surge.
The J&J decision was based on immune response data from 39 people who received a booster dose about 2 months after their single jab.
The FDA did note that both the Moderna and J&J vaccines come with rare health risks.
The Moderna vaccine has an increased risk of rare cases of inflammatory heart conditions, with the risk being higher among young men under 40 and such events typically occurring a few days following the second dose, the FDA said.
The J&J vaccine carries an increased risk of serious blood clotting, most frequently in women aged 18 to 49. There's also a very rare but increased risk of Guillain Barre syndrome — a polio-like neurological disorder caused by immune response — within 42 days of vaccination.
Meanwhile, regulators are seriously considering authorizing booster shots for people as young as 40, according to two officials familiar with the plans, the Post reported. That would not happen until the pediatric vaccine is authorized, said the officials, who spoke on the condition of anonymity.
More information
Visit the U.S. Food and Drug Administration for more on COVID vaccines.
SOURCE: Oct. 20, 2021, media briefing with: Janet Woodcock, MD, acting commissioner, U.S. Food and Drug Administration, and Peter Marks, M.D., Ph.D., director, FDA's Center for Biologics Evaluation and Research; U.S. Food and Drug Administration, news release, Oct. 20, 2021; Washington Post


Copyright © 2021 HealthDay. All rights reserved.
[ad_2]

Source link