Feels great when people say things like 'he is the Messi of our sport': Pankaj Advani | More sports News
[ad_1]

NEW DELHI: From the outside, it seemed like somebody woke
Pankaj Advani
up and he took his cue stick out, got around the table and did what he does best, i.e., winning world titles.
Last month, he added a 24th global trophy to his name, pocketing the IBSF 6-Red
Snooker
World Cup in Doha. At this rate, despite losing a couple of years to the pandemic, Advani may outnumber his age.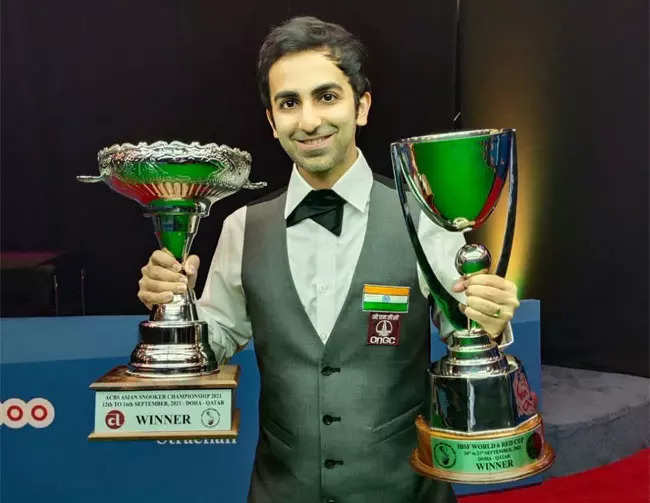 The master cueist is 36 currently. He won his first world title at the age of 17 and has added 23 more in the next 19 years.
It was the second title for India's cue sports legend in a week in Doha. Along with the world title, he also scripted the continental triumph at the Asian Snooker Championship in the Qatar capital.
TimesofIndia.com spoke at length with Advani after his 24th world title and he opened up on a lot of different aspects, touching upon various facets of sports in general, life, success and mental health.
A 24th world title. Most people get bored of doing the same thing again and again. Has any such feeling ever struck you?
It excites me even more at this stage, getting the taste of winning from an early age. I am still as excited as I was when I won my first (trophy). The hunger hasn't diminished.
In hindsight, has the forced break due to Covid-19 helped your longevity, maybe unknowingly?
First of all, we were dealing with a lot more serious issues during the pandemic. At the start of the first lockdown, everybody thought that in 3-4 months we'll be out of this and things will come back to normal. But apparently, Mr. Covid had other plans. So I thought it was a welcome break.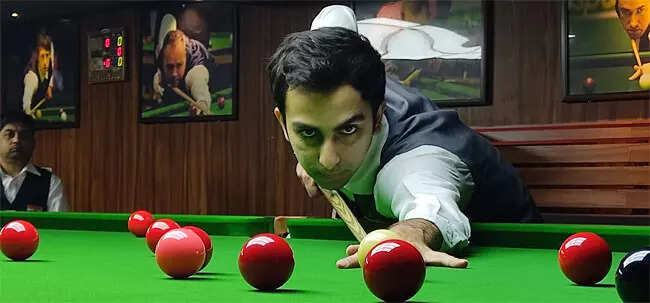 (TOI photo)
Most of us (sportspersons) who were traveling throughout, involved in the whole rat race back and forth, had no time to actually introspect, rest a bit and spend time with friends. But when the second lockdown was enforced, people got a lot more anxious. Many athletes, many of them, hit depression, wondering whether we would ever get to play again.
What state were you in during the pandemic break that kept getting extended?
Sport was never on my mind for the first few months because we're dealing with something as serious as a pandemic and we lost a lot of people, loved ones, to this. But slowly, as things started getting better and then the vaccine came out, we started wondering when the next tournament will be held.
To the fans of cue sports, your performance in Doha suggested Pankaj Advani never stopped practising even during the lockdown…
I got the opportunity to play after two years. It's like when you have an opportunity, you want to make the most of it, although I was probably the most underprepared for these two events. I just got a month to prepare since the last lockdown eased out only somewhere around August. So I'm just grateful that I have still got the winning touch and the flow.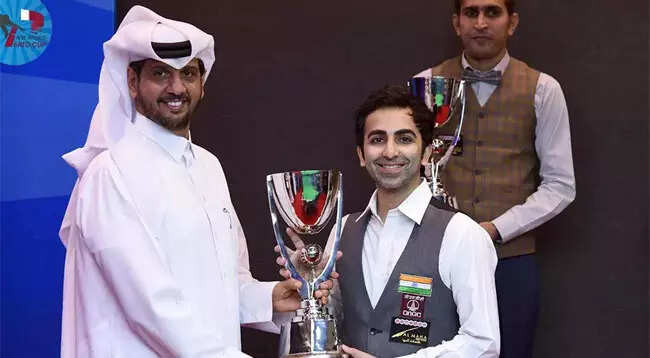 How difficult was it to switch on and get back into the routine of regular training again?
I've always felt like one should work smart, not hard. I consider myself an artist. I'm pretty moody. Sometimes I really want to play, I play for 5-6 hours. Sometimes (when) I don't feel like playing, I'll just do the basics for half an hour and then go back, just to make sure I'm in decent touch. But the break in itself has obviously made everyone very rusty. So the quality of the game I knew is not going to be as high. It's going to take a while before we start producing those big breaks and start playing more fluently and get back to the levels which we were at before Covid.
From training to competition mode for the first time in almost two years. Did you face any difficulty, maybe internal, which the results didn't reflect?
I think I relied on my experience, my ability to choose the right shot at the right time, attack or defend…So I think that decision-making ability was still there; it hasn't gone away. But obviously the quality of the game and the scoring ability is all going to take a while to come back. I think the important thing is to recognize that it's okay to make those mistakes because we've been out of the game for so long…Life is not as easy or the game is not as easy as it seems.
When you're playing competitions continuously, you know what you need to do, you are in regular touch, you're under pressure a lot more. Then suddenly (after a long break) you are put under that kind of pressure (again). But I sort of embraced the occasion, accepted the fact that this is how life is, it's what it is. We can't change anything, we can't bring back those two years. We have just got to adapt, accept and move on. That's exactly what I did with my game as well.
You like being 'in the zone' as a player, but this time an added requirement was to be 'in the bubble' as well. Tell us something about that.
When we went to Doha this time, we were put up at a fabulous hotel and at the same place we had our (tournament) venue also. So things were very well organised by the Qatar federation, the asian body and the world body IBSF. Of course, we are allowed to go out at times but we had to carry a lot of documents with us and had to show a (mobile) app which needed a green box that meant we were allowed to step out into a mall or a restaurant.
It's but natural for them to be a little worried and take precautions, especially for those coming from other countries and overseas to ensure that they don't spread the disease. This is a new normal.
I've been around for quite a while now. Unless you know something is really off, say you are in the middle of nowhere in a desert or you're somewhere in the outskirts where you don't have access to anything and you're stuck to one particular property for three weeks, then it becomes tough, and we faced those situations also before with COVID.
(In Doha) We were not strictly put in a bio-bubble because we could roam around in the hotel with our masks on, we could go outside also, but we didn't choose to go too often, just a couple of times for a change. I don't think it really affected anybody's performance.
I'm the kind of person that if I have two matches in a day, I just like to rest it out in between, have my meal in the room itself and then go to sleep and get ready for my next match. I'm pretty happy with that or just watching TV at night after the games are over to get my mind off (the sport), maybe go out for a walk or go to the gym or maybe a dip in the pool.
Like you said, you have been around for so long. You are 36 now and, of course, this sport allows you to go on a little longer than other sports that are physically more demanding. So where do you see yourself in the future from that aspect?
Of course it (life) is now divided between my married life and the sport, but as long as it (sport) figures in the top two of my priorities and I'm enjoying it, (I will continue playing). Everybody asks me, 'you have won so much, what keeps you going?'. For me, the answer is very simple: I love playing the sport. I just find joy in competing, in practising and playing the game the way it should be played and continuously evolve and improve.
I love my country and I love representing and winning for my country. So that itself is motivation enough, forget about other things that come along with it: name, fame, adulation, awards. Those things come automatically…I am at it because I just love doing it.
Do you think there is hope inside you that the sport will get to the Olympics one day, and maybe you want to sign off on that note?
Yes, it would be nice to be part of a quadrennial event (Olympics), but I think we have to also put things in perspective.
Asian Games and all such tournaments happen once in four years. A lot can happen in four years. Careers can end, you may have an injury or you may not be in that same form at that particular point of time. Nothing to take away from all those who've achieved medals. They have worked really hard to reach that level of excellence and put themselves in a position to win medals for their country. It's great. But for me sports is about consistency. I don't think you can judge consistency and greatness through quadrennial events.
Yes, we make a big deal out of the Olympics, the Asian Games, which is great. I have won two gold medals myself at the Asian Games back to back. So I know that feeling of the national flag going up and the national anthem being played. It's very emotional. But if somebody had to ask me, would you rather win 10 world titles compared to one Olympic gold medal, I would definitely choose my world titles any day.
I remember Roger Federer being asked to choose between one Wimbledon title and the Olympic gold, and he said, "Wimbledon means more to me".
So not to undermine the importance of the Olympics, again. If it happens, great. Of course, I would love for cue sports to be part of it. But I think to measure true consistency and greatness in a sport, you need to look at the yearly performances and how often a player has done well and has won medals and titles.
When you look back at your first title wins, in the post-Covid era if we can call it that, what's one memory, besides winning the titles, that will always remain with you?
There are on-the-table and off-the-table memories. The thing is that we probably take so many things for granted. During Covid, it gave us a lot of time to introspect; and frankly speaking, I'm very grateful that I've got the opportunity to play again, which we never knew when it would happen.
I had forgotten how to play the game in a way because there had been so many gaps. And then it's a game that is quite technical and physical as well. I think a lot of people underestimate the physical fitness part of this. As we speak, I'm still dealing with some upper back issues that are under control for now; but during the championships, I was struggling with my upper back and the muscles. There is so much wear and tear because you're bending, you are sticking your neck out in one position, then you have to be still for hours while playing.
I have started enjoying the game all over again. Because of the long break, I think my hunger has only increased and the joy that I feel while playing has gone up. And I've started actually appreciating what the game has to offer and started rediscovering myself and trying to reinvent myself all over again, which is a great feeling.
I know not many people like change, but I think it is something that is inevitable. You have got to change with time, the way you play, the approach to the game.
The first time (post Covid) that I got off the flight and there was somebody to receive me right outside the aircraft, that was such a good feeling to be welcomed in that way and to be escorted to the VIP section at the Doha airport. Then, when I reached the hotel, some of the organisers and players were talking. I just overheard somebody saying, "He's the Messi of our sport."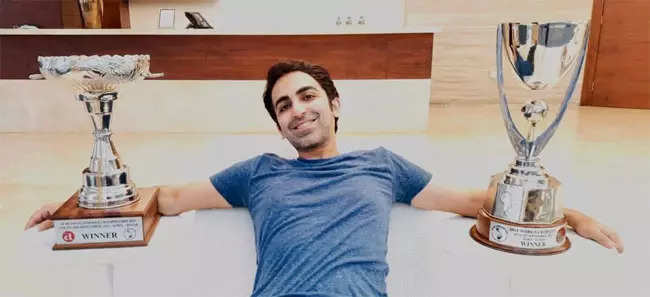 It just feels great to hear these things. Maybe after a few years, these are the small memories you come back with. Sometimes all you just need is a pat on the back or somebody saying something nice. It elevates your confidence to a new level.
You mentioned your back issue. What kind of fitness levels are required for cue sports, because many people, as you said, are not aware of it?
This is a game where you don't require raw physical power. So you never see snooker players with big muscles or biceps, but what you will see is players being extremely flexible, their core being strong. The core is something that I've started working on for the last few years.
I do a lot of core activation, knee extension…dead bugs, bridges, spinal mobility, hip mobility. The hips get very stiff. So you have to work on your glutes, the hips, the pelvic region, because you're standing in one position and have to be very, very still while playing, both physically and mentally.
Everybody knows about the mental aspect of our sport. It's like shooting, where your eye has to be on the target. If you take your eye off the target, you miss the shot. But for snooker and billiards, you also need to bend in a particular position, you need to keep your feet firmly on the ground. So your legs need to be strong; then squats also become a crucial part of your routine.
So core stability and flexibility is what we work on, especially the upper back and lower back because invariably 99% of the snooker or billiards players have some back problem or the other at some stage of their career. So the upper back and lower back again needs to be worked on constantly, physiotherapy sessions, shoulder activation, constant stretching and strengthening of the muscles in that region.
Such demands of the sport bring us to another important aspect, which is in focus these days: mental health. How do you handle that aspect of your game?
There was a time when I was going through a bad patch and I had lost motivation. (My elder brother) Shree (Advani) happened to visit India at that time, just before the Asian Games in 2006. I was leaving in a couple of days for Doha. He did a few sessions with me. He was into sales, leadership, motivation, and success at that time; he had not yet started his practice….Actually because of the results that it produced, and thanks to Shree, I went on to win the Asian Games gold.
I think mental health is a topic which I don't know why many of us in India feel shy to talk about because we feel like we're asking somebody for professional help, so it means there is something wrong with us. But that's not the case.
I would consider myself a normal person. Representing India, snooker, billiards, I have played all of that. But for anybody, even if you're happy, going through a good phase in your life, you just need professional advice to keep you sane, to put you on the right track — and there's nothing wrong with it, not only in times of need, but also consistently to help you gain perspective, to just be reminded of what are the important things in life, and why do we attach so much importance to things that are more temporary. It gives you a more spiritual take on things and helps you deal with pressure and the stress and anxiety of life because we all go through it.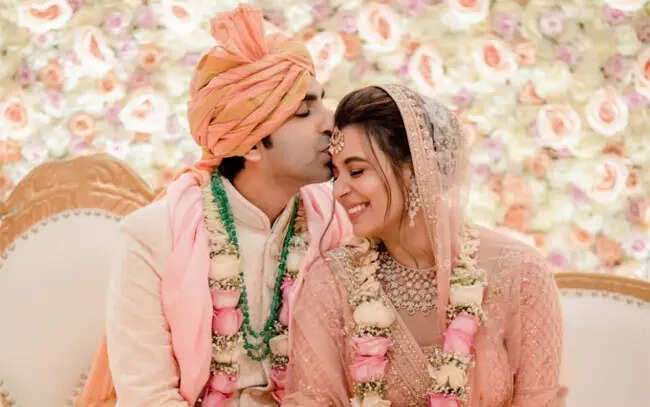 I get butterflies in my stomach before I start a tournament. Sometimes I don't sleep well before a big match, sometimes I get stressed out about things not happening on time, whether it's some paperwork or anything. We all get flustered with the smaller things of life.
Sports psychology is still at a nascent stage in India. I think our Indian athletes have come a long way but we still sort of falter at the finish line or sometimes we could have won a higher medal but we sort of fall back and are not able to handle that pressure in the end. So there has to be some reason mentally. It's not that there's any dearth of talent in our country.
Luckily for me, I've had Shree to take care of that aspect. But I think mental health is extremely important. We all say yes, India should be fit and the whole Fit India movement is great, everybody should keep themselves physically fit. For me, the more important issue, the pressing issue, is mental health. I think when we're a mentally healthy nation, then automatically we will also work towards our physical fitness and our wellbeing overall.


[ad_2]

Source link