In numbers: How successful was Team India in the Virat Kohli-Ravi Shastri era? | Cricket News
[ad_1]

The 9 wicket win for India vs Namibia in the T20
World Cup
match that was played on Monday brought the curtain down on
Team India
's 2021 T20 World Cup campaign. In many ways it was a win that felt like a loss, since it was overall a campaign that was rocked early on by two big and to be fair surprising losses to Pakistan (by 10 wickets) and New Zealand (by 8 wickets).
Effectively, India's wait to win an ICC World Cup title is now a decade old (India last won a World Cup title in 2011). The last time India won an ICC title overall was in 2013, when they won the Champions Trophy. Both these wins were registered under the captaincy of
MS Dhoni
.
Virat Kohli
, the captain, is still waiting to win an ICC trophy. If he decides to step down as ODI captain also some time soon, the only ICC trophy he can aim to win as captain will be the
World Test Championship
. But that is all hypothetical right now.
As the Virat captaincy era in T20Is end, it also brings to a close the chapter of
Ravi Shastri
as Team India Head coach.
Here we look at how the team did across all three formats with Virat Kohli as captain and Ravi Shastri as coach:
In the Virat-Shastri era (Virat as captain and Shastri as coach), Team India played a total of 39 Tests, 67 ODIs and 47 T20Is. Here's a quick break up of how the team did in all the three formats under them:
Tests
Out of the 39 Tests which India played with Virat as captain and Shastri as coach, they won as many as 22 for a win percentage of 56.41. The team lost 13 Tests and drew four in this era.
A closer look of how the team did in home and away Tests in this time period shows that the home win percentage was almost 79%, while the away win% was 44.
Overall India played 14 Tests at home during this period, winning 11, losing 1 and drawing 2. During this period, India also played 25 Tests away from home, winning 11, losing 12 and drawing 2. This also included the 2018-19 Border-Gavaskar Trophy win in Australia, which made Team India the first Asian side to beat the Aussies in a Test series in their own backyard.
The team also reached the final of the ICC World Test Championship.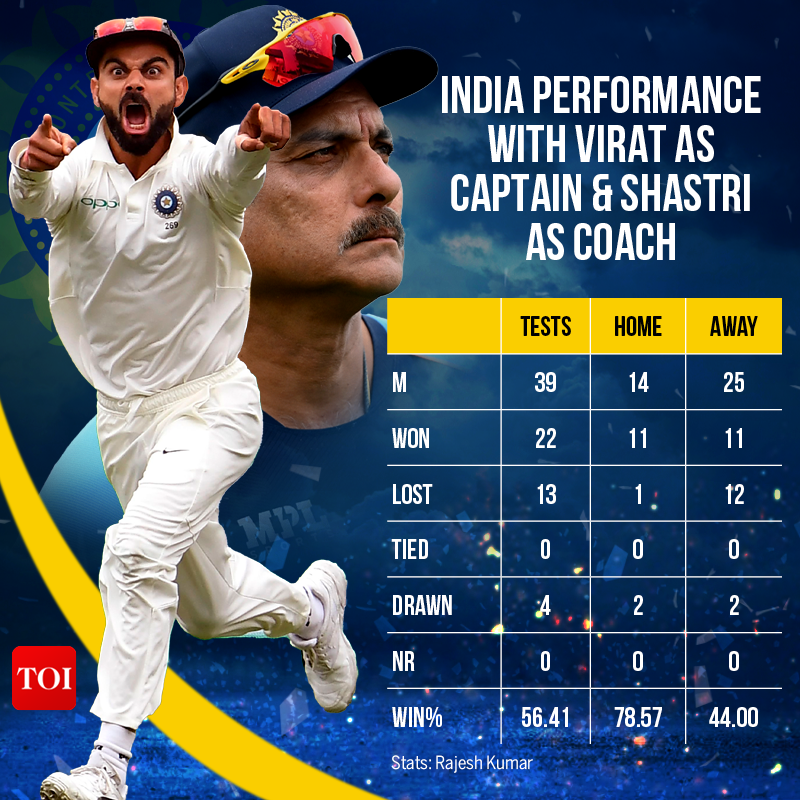 ODIs
In One Day international cricket, India played a total of 67 matches under Virat as captain and Shastri as coach. Once again, just like in Tests, the team played more matches away from home than at home.
Overall, India won 44 and lost 21 games in this format in this period. The team also had 1 tied game and 1 no result in this period. That's a win percentage of 67.42%
At home, out of 27 ODIs played during this time, the team won 17 and lost 9. 1 match ended in a tie. The win percentage here was 64.81%
Away from home, the Men in Blue played a total of 40ODIs under Virat as captain and Shastri as coach, winning as many as 27 of them and losing 12. 1 match ended as a NR and that overall gave the team a win percentage of 69.23%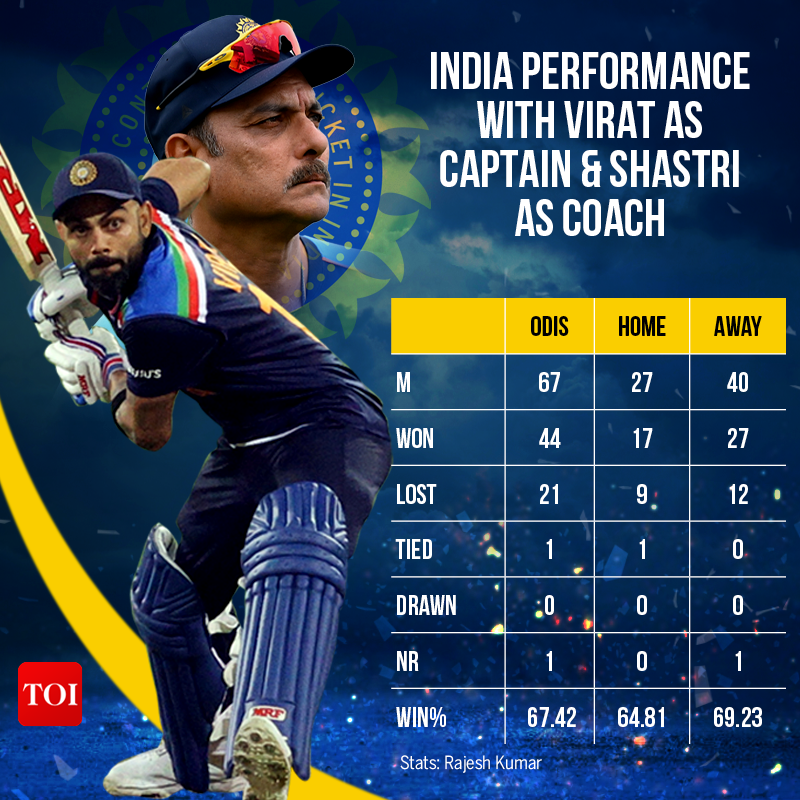 T20Is
In the shortest format of the game as well, India had a very good record under Virat as captain and Shastri as coach. Of a total of 47 T20Is played in this period, India won 30 and lost 15 games. Two matches ended as NR. The two India vs New Zealand games in Hamilton and Wellington in January 2020 which ended as ties were won by India via the one over eliminator and have been added to the wins section here.
A quick break-up of the home and away stats here show that out of 20 T20Is India played at home under Virat as captain and Shastri as coach, the team won 11 and lost 8, with 1 match being registered as a no result game. The win percentage for the team was 57.89%.
Meanwhile, away from home India played a total of 27 T20Is in this period and won a staggering 19 matches and lost just 7. One match was a NR and that gave the Men in Blue an overall win percentage of 73.08%. This also included India's 5-0 whitewash of New Zealand, with which India had become the first side ever to win a T20I bilateral series 5-0.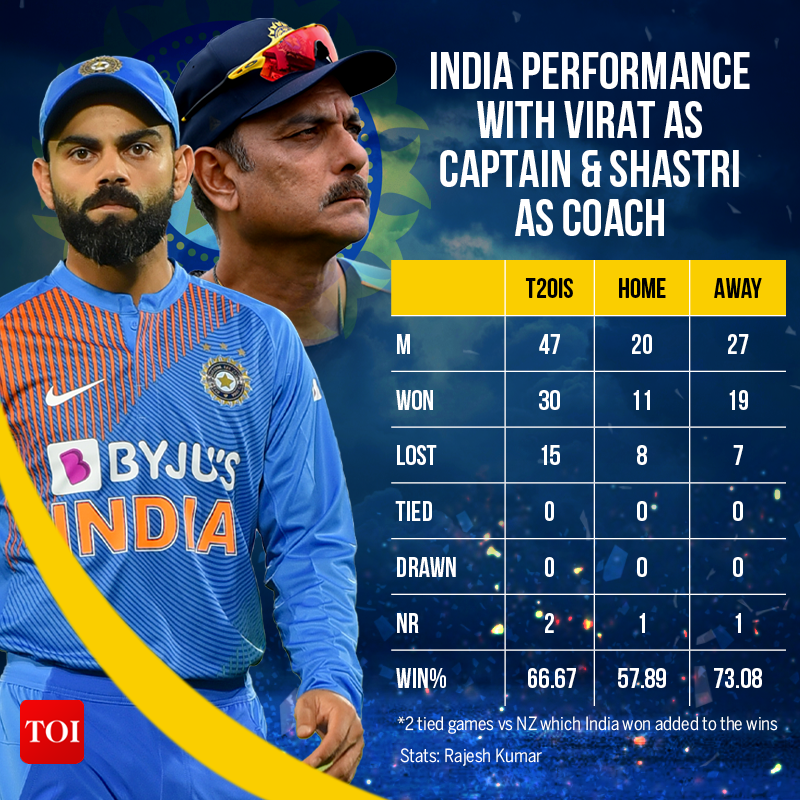 So, overall the win percentage for the Indian team across all three formats, with Virat Kohli as captain and Ravi Shastri as coach read: 56.41% in Tests, 67.42% in ODIs and 66.67% in T20Is.


[ad_2]

Source link