'King is back': Cricketers hail Virat Kohli masterclass | Cricket News
[ad_1]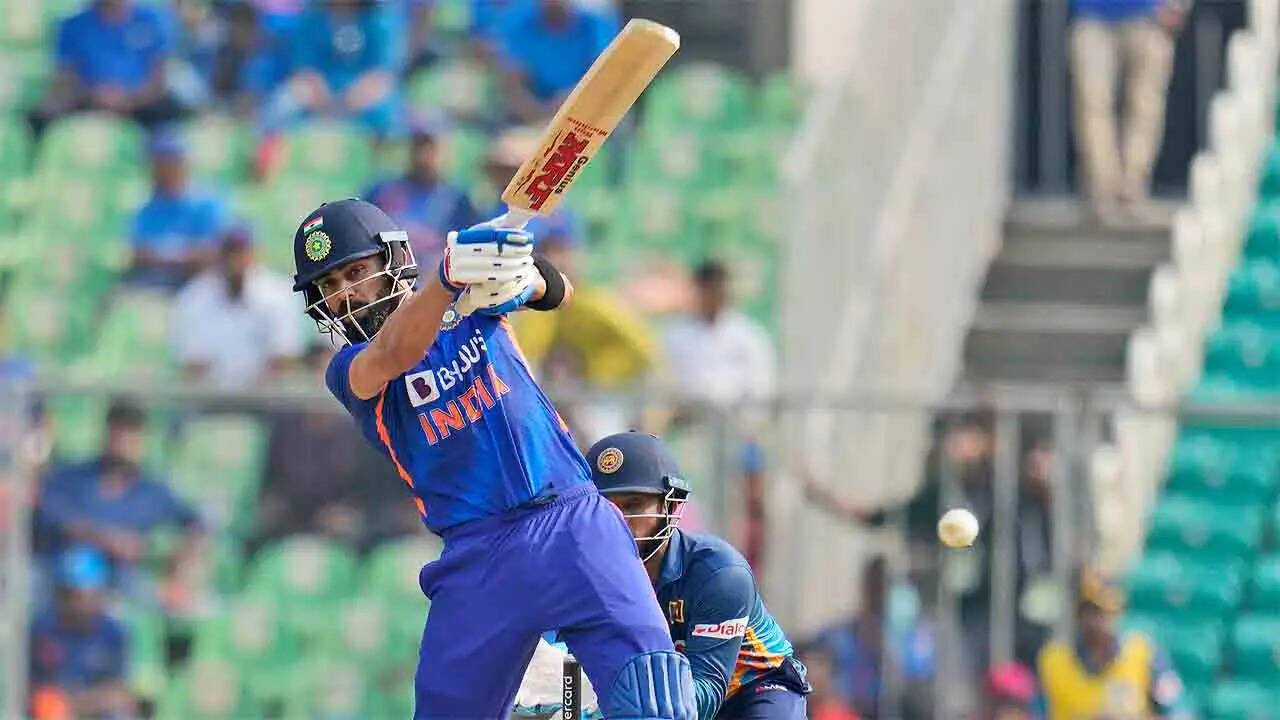 NEW DELHI: India's
Virat Kohli
won praise from the cricketing world on Monday after his third one-day international century in four matches silenced critics doubting his place in the team.
Kohli, 34, smashed an unbeaten 166 to lead India to the biggest-ever ODI win by 317 runs against Sri Lanka on Sunday, his 46th ODI ton and 74th in all formats.
The former captain ended last year with an ODI century against Bangladesh and began 2023 with another 113 in the Sri Lanka opener to announce his return as a run machine in style.
Kohli went through an extended lean patch last year, failing to reach three figures in over 1,000 days.
He quit as T20 skipper in late 2021 and in January 2022 was sacked from the ODI captaincy and gave up leading the Test side too.
"King Kohli" last week spoke again about his mental struggles during his dry phase, including how he had been "snappy" around his Bollywood actress wife Anushka Sharma.
"In my case, in denial, frustration was creeping in. I was very cranky, very snappy in my space," Kohli told the Indian cricket board's website bcci.tv.
"It was not fair on Anushka, my close ones, it's not fair on the people who support you. So I had to take responsibility and kind of put things in perspective."
Of mutual admiration 🤝, dealing with expectations & starting the year with a glorious 💯A conversation that will b… https://t.co/jjTwRMCQGg

— BCCI (@BCCI) 1673409644000
But he hit his first century after 1020 days in the Asia Cup Twenty20 tournament in September last year and hasn't looked back since.
1/20
Milestone man Virat Kohli leads India to record ODI win against Sri Lanka
Veteran commentator Harsha Bhogle said, "the king is back to doing what he does best, scoring hundreds".
Lovely line from Harsha on Virat Kohli's 46 ODI century: "The king is back to doing what he does best, scoring hundreds".

— Ian Raphael Bishop (@irbishi) 1673781839000
Kohli's long-time IPL friend and former teammate at Royal Challengers Bangalore AB de Villiers tweeted: "Virat Kohli! Different level."
Virat Kohli! Different level💪

— AB de Villiers (@ABdeVilliers17) 1673842193000
"It's wonderful to see Virat Kohli back at his best in white-ball cricket, this unbeaten 166 was special even by his lofty standards," batting great VVS Laxman wrote on Twitter.
What absolute dominance by India in the final ODI, and the series! It's wonderful to see Virat Kohli back at his be… https://t.co/OninFmxIeb

— VVS Laxman (@VVSLaxman281) 1673794431000
Sri Lanka batsman Angelo Mathews called Kohli a "modern great" and Pakistan wicketkeeper-batsman Kamran Akmal said "he is the boss of this era".
The modern great @imVkohli showed his class and experience once again! Gill batted well [email protected] outplayed us in… https://t.co/36irQ5FuRb

— Angelo Mathews (@Angelo69Mathews) 1673802193000
Runs machine The KING @imVkohli …46th ODI century..He is the boss of this era 👏🏻👏🏻

— Kamran Akmal (@KamiAkmal23) 1673781452000
Senior Indian journalist Rajdeep Sardesai, son of former India cricketer Dilip Sardesai, hailed Kohli as the greatest ever ODI player.
"Recall how only a few months ago there were those questioning @imVkohli future, esp (especially) in white ball cricket," Sardesai wrote on Twitter.
But citing Kohli's tournament-leading run tally at the T20 World Cup and two ODI centuries against Sri Lanka, Sardesai wrote: "the King is back".
Recall how only a few months ago there were those questioning @imVkohli future, esp in white ball cricket. now,top… https://t.co/UMbxBATxK2

— Rajdeep Sardesai (@sardesairajdeep) 1673783012000


[ad_2]

Source link