T20 World Cup: Can Team India break the New Zealand jinx? | Cricket News
[ad_1]

These are two teams driven to similar states of desperation by defeat to the same opponent, Pakistan. Two teams with no lack of mutual respect, hoping to somehow claw and scratch their way past each other in Sunday's big-billing, winner-takes-all World Cup contest in Dubai.
For India, defeat is unthinkable. Even the mere notion of it is blasphemy. That way lies negativity and ruin and ignominy and an early exit. In their case, desperation may spur excellence. For the Kiwis, shorn of the usual pressures of a million trolls baying for your blood, it is easier to keep calm. For them, desperation can fuel innovation.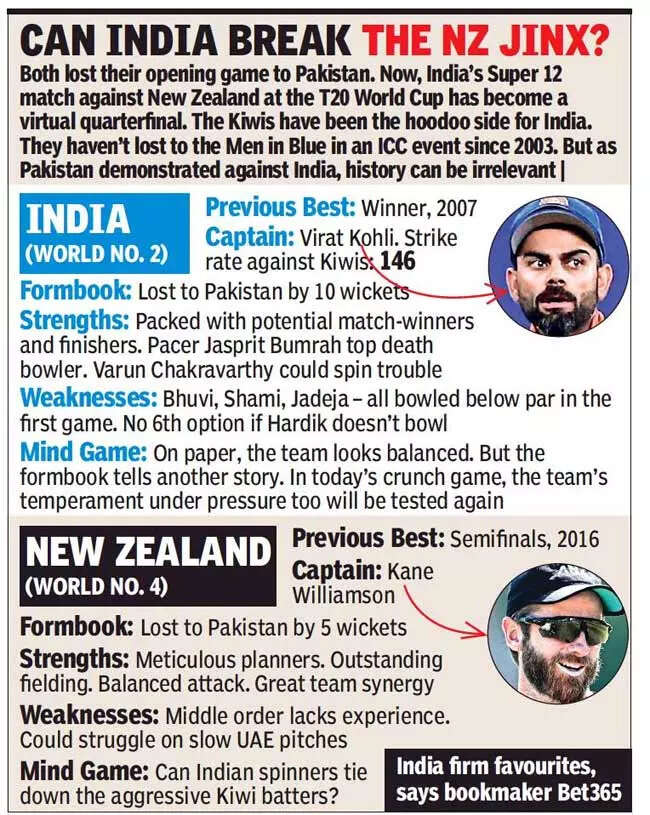 Both teams are smarting from defeats in which their T20 moves did not quite come off. New Zealand tried to tick all the boxes against Pakistan and came up short, whether it was making Daryl Mitchell open or playing James Neesham at No. 4. Ish Sodhi's leg-breaks were probably the only high point. India's bowlers failed to take a wicket and their new-ball pace pairing was lackluster.
Their openers failed to counter Shaheen Afridi's inswing, and now Trent Boult lies in wait. Their finishers failed to up the ante. Their spinners struggled with the dew. Both captains, Virat Kohli and Kane Williamson, were similarly guilty of adopting an overly cautious approach in trying to play T20 anchor. Williamson went at a strike rate of 96.15 in Sharjah in a team total of 134/8. Kohli, who scored a half-century in Dubai, went at 116.33 in a team total of 151/7.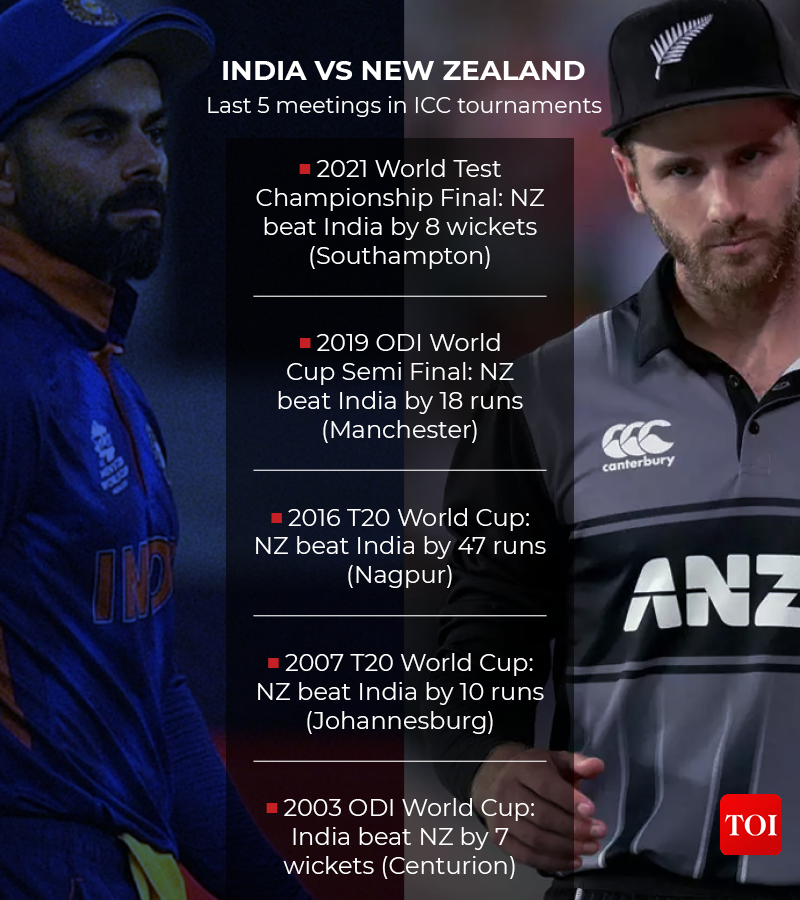 Both teams, importantly, lost the toss and were forced to bat first. In a tournament in which 17 out of 24 games (before the SL-SA tie) were won by the chasing team, 12 of these by the team opting to field first after winning the toss, it's a no-brainer: such first-innings totals may prove sub-par once the late evening dew sets in. Strike rotation, maybe even some lusty hitting, is the key in the middle overs while setting a target, but not easy on these pitches.
So how do teams buck the trend after losing the toss and being forced to bat first? Kohli suggested that setting larger totals had to be the goal, putting the onus on the batsmen. "Toss will continue to be a big factor. Either you can bank too much on the toss or you can challenge yourself as a team. Those 15-20 extra runs (while batting first) can make a big difference."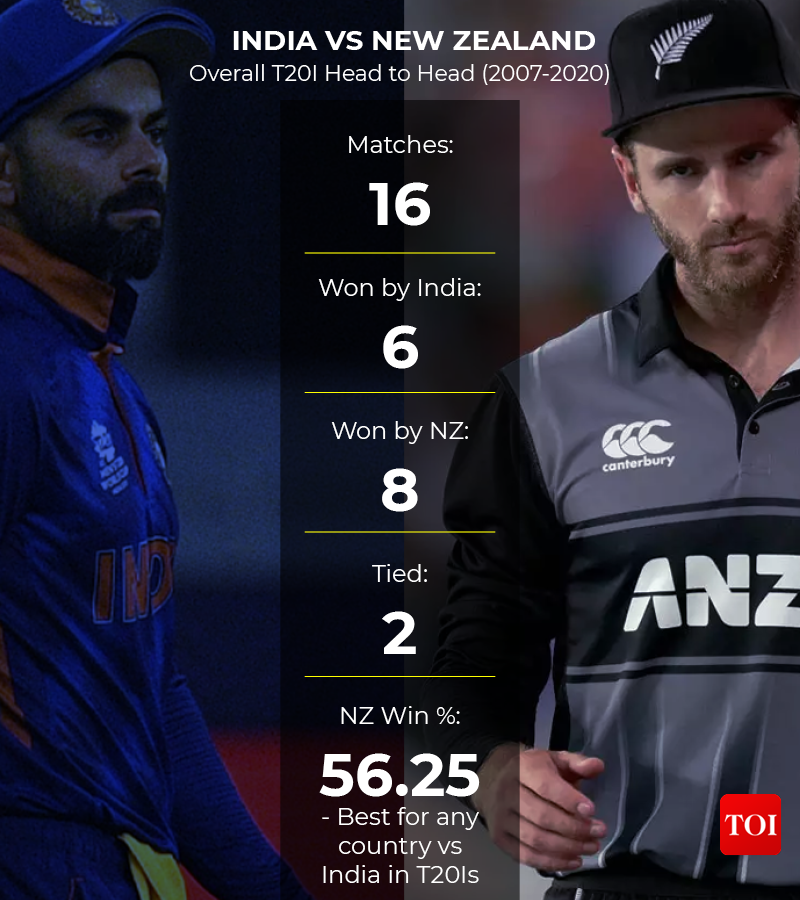 Kiwi pacer Boult, offering the bowlers' perspective on the issue of dew, said as much in different words. "It's tough. It's hard to understand how much dew may come in. You have to take your time and have a good grip on the ball and be as accurate as you can."
With both teams having identified a change in approach, rather than a kneejerk change of personnel, as the need of the hour, there may not be much chopping and changing.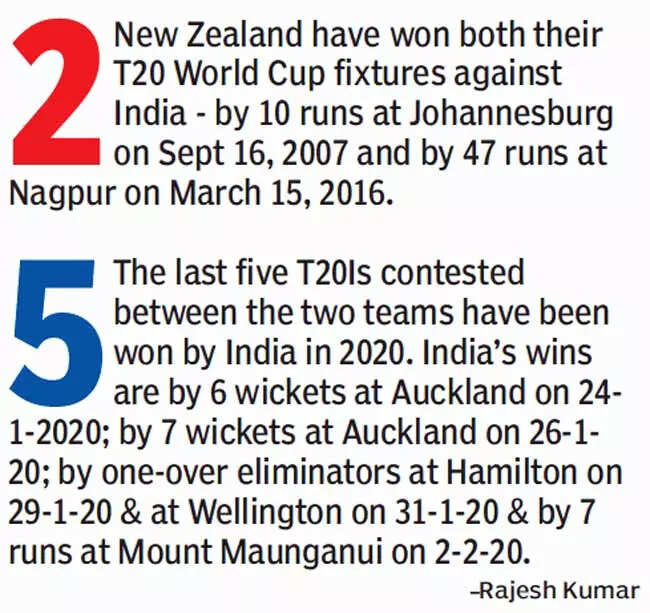 For New Zealand, Martin Guptill is fit and expected to open. Adam Milne is also available. For India, the sideshow around Hardik Pandya's (in) ability to bowl has culminated in a few nets sessions in which the allrounder did turn his arm over. Whether that means one headache less for the team management will be known on Sunday, but it is imperative Pandya finds his form with the bat first, especially with the explosive Ishan Kishan sitting out.
India may also have a case for resting Bhuvneshwar and bringing in Shardul Thakur, as Sunil Gavaskar has suggested, but is Thakur's economy rate of 9.11 from 22 T20Is good enough?
India have not beaten New Zealand in a World Cup game, across formats, in 18 years. There is no better time to break that underwhelming run than now: India have won their last five T20Is against the Kiwis, although they have lost both encounters (in 2007 and 2016) in the T20 World Cup. Law of averages, where are you?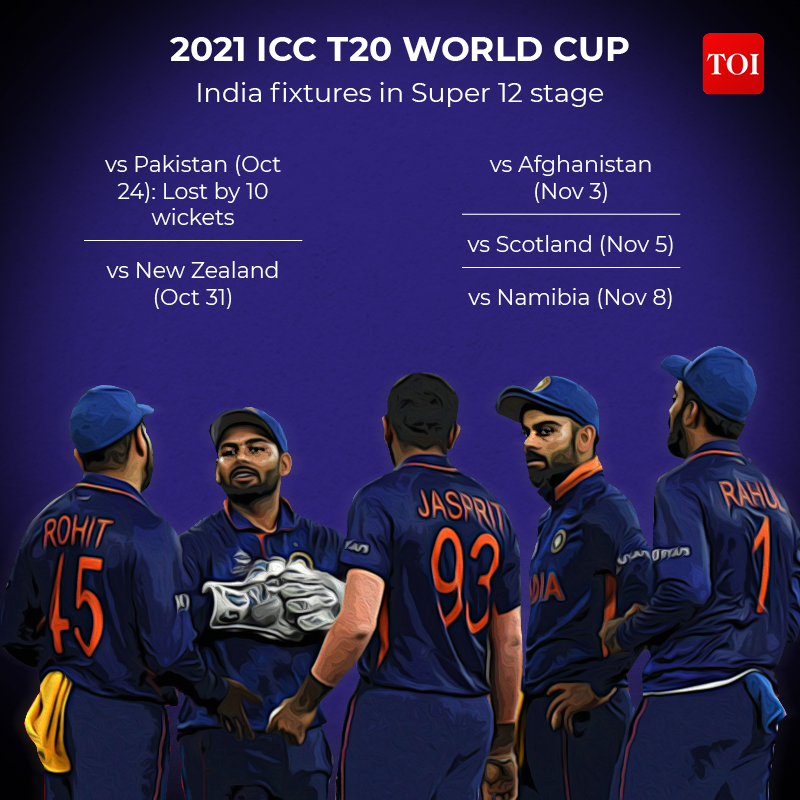 [ad_2]

Source link